HANDPIECE PARTS AND PRODUCTS
Quality Supplier for Dental Handpiece Replacement Spare Parts
ROTORES DENTÁRIOS Company is a quality supplier for dental turbines and Contra Angle parts and products that offers warranty protection and fast shipping: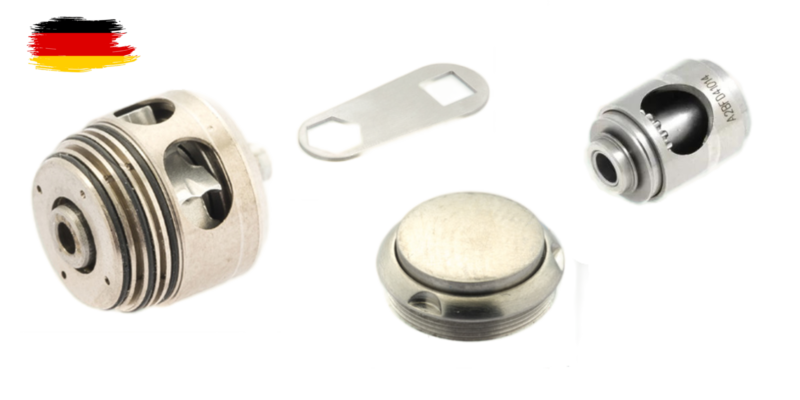 Dental Handpiece Parts Supplier
The Critical Role of a Quality Supplier for Dental Parts and Products
High-speed dental handpieces rank among the most frequently utilized and intricate tools in dentistry. The internal components that make up these advanced devices represent engineering marvels finely tuned for drilling and cutting teeth with exceptional precision. However, such complex technologies also carry significant potential for breakdowns and failures over repeated uses and sterilization cycles. That's why having a quality supplier for handpiece parts and maintenance products is absolutely essential for dentists.
When handpiece malfunctions inevitably occur, you need replacement components and repair solutions immediately available to get your practice running again with minimal disruption. What criteria should you look for when selecting parts suppliers for your invaluable handpieces?
Strict Quality Management Standards
Rigorous quality control in manufacturing dental products prevents the variability and defects that lead to shortened handpiece lifespans. Reputable suppliers test extensively at every stage, from sourcing materials to final assembly. They recognize that tiny imperfections in turbine bearings, chucks, or gears can cause vibrations, leaks, and noise issues down the road.
Demand third-party quality certification like ISO-13485 for medical devices. Scrutinize manufacturing techniques, tolerances, pass/fail rates, and equipment used. A commitment to quality reduces failure rates and protects your investment in dental technologies.
OEM Parts for Proper Fit and Performance
There is a common myth that aftermarket dental handpiece parts are inherently low quality compared to OEM components. However, this is not always the case – there are reputable aftermarket suppliers producing parts equal to or exceeding OEM standards. One such reputable company is Dental Rotors, known for premium quality aftermarket for dental handpiece replacement spare parts. The advantages of buying from Dental Rotors include: strict quality control and testing procedures to match OEM specifications; high-grade materials including German ceramic ball bearings for precision and durability; extensive product range with parts suitable for most major professional dental handpiece brands; competitive pricing compared to OEM; excellent customer service and technical support; fast shipping times worldwide. By partnering with a reliable aftermarket supplier like Dental Rotors, dental professionals can save substantially on parts without sacrificing performance and longevity. This disproves the myth that aftermarket dental parts are automatically low quality – companies like Dental Rotors are your trusted source for premium aftermarket components.
Wide Offering of Parts of Dental Handpiece
Look for a supplier that stocks a diverse range of parts and accessories suited for most major professional handpiece brands, including KaVo, W&H, NSK, and Midwest. They should have many specialized components available beyond just turbine replacements.
Ask about specific high-wear items like seals, chucks, autoclavable cassettes, fiber optics, and tubing. A deep inventory enables one-stop shopping for all your handpiece needs and quick order fulfillment without waiting on special orders.
Fast Order Processing and Shipping
When a handpiece goes down, every minute ofdelayed treatment hurts your practice's productivity. Choose a supplier with streamlined ordering channels like online forms, knowledgeable sales reps, and interactive catalogs to get you parts fast.
They should offer same-day shipping on in-stock items. Ask about order cut-off times, backorder handling, and emergency shipping policies as well. Look for centralized distribution networks that bring parts close for 1-2 day standard delivery. A responsive, customer-focused company makes the process painless.
Warranty Coverage
Even the highest quality part can occasionally arrive defective or even fail prematurely despite proper usage. That's why warranties prove so valuable – they remove the costs and hassles when you receive a faulty component. Strong supplier warranties range from 6 months to a year and require little documentation on your part.
Extended warranties for certain expensive items like turbines often allow exchanges upfront before you even send back the old one. Choose a supplier who stands by their products with clear warranty coverage to protect your investment.
Sterilization-Compatible Options
All components must withstand repeated sterilization methods to control infection in a dental office. Suppliers should indicate which products are autoclavable or compatible with chemical disinfection. Look for high-temperature plastics, reinforced metals, and advanced coatings that won't degrade from cleaning protocols.
Ensure any recommended lubricants, cleaners, and hygiene products maintain sterility as well. Using properly sterilizable parts enhances longevity while meeting regulatory obligations.
Value-Added Technical Support
Even ordering the correct part numbers can prove challenging across the multitudes of handpiece configurations. A quality supplier has experts on staff to help identify the parts you require and troubleshoot problems over the phone or online. Their technicians can ensure you receive the right components and avoid returns or repeat issues.
Many companies also provide instructional videos, FAQs, maintenance tips, and operating manuals. Seek comprehensive technical support that builds your staff's knowledge and takes the guesswork out of handpiece repairs.
When carefully vetted, a supplier becomes a trusted partner keeping your handpieces running in top form. They understand how a quick replacement turbine or single worn gear prevents major work disruptions and gives patients consistent care. By delivering quality parts and products readily, they become an invaluable extension of your dental team.
Dental Handpiece Components
Dental handpiece components are crucial elements of dental instruments used by dental professionals to carry out various dental procedures. These components ensure the proper functioning of the handpiece and enhance its overall performance. Common dental handpiece components in English include the rotor, which rotates the bur or drill, the turbine, responsible for driving the rotor, and the bearings, which provide smooth and frictionless movement within the handpiece. Other notable components include the air and water lines, which deliver compressed air and water spray for cooling and cleaning purposes, and the chuck, which holds and secures the bur or drill in place. These dental handpiece components work together harmoniously to facilitate efficient and precise dental treatments, ensuring optimal oral health for patients.
GET WHOLE SALE DISTRIBUTOR PRICE
FAQs: Quality Supplier for Dental Handpiece Parts and Products
How do I find a reliable supplier for dental parts and products?

Look for suppliers with a strong reputation in the dental industry and positive customer reviews. Check their experience and whether they provide genuine, high-quality parts.

What should I consider when choosing a supplier?

Consider factors like product quality, certifications, range of products, pricing, shipping options, and customer support. A reliable supplier should offer warranty and responsive customer service.

Are there certifications I should look for in a dental handpiece supplier?

Yes, look for suppliers that comply with industry standards and regulations, such as ISO certification for quality management.

Can I trust online suppliers for dental handpiece parts?

Online suppliers can be trustworthy if they have a professional website, clear product descriptions, secure payment options, and good customer service. Research the supplier's reputation and read reviews.

Is it important to buy original manufacturer parts for dental handpieces?

Yes, using original manufacturer parts ensures compatibility and performance. Non-genuine parts can compromise the handpiece's function and lifespan.

What are some red flags to watch out for when choosing a supplier?

Be cautious of suppliers with extremely low prices, lack of contact information, vague product descriptions, or poor customer reviews.

Do reliable suppliers offer warranties for their products?

Yes, reputable suppliers often provide warranties for their products as a sign of their confidence in quality.

How can I verify the authenticity of dental handpiece products?

Look for suppliers that source their products directly from reputable manufacturers. Request product details, certifications, and ask for recommendations from dental professionals.
Peças de baixa velocidade para KaVo